The cost and status of weapon skins in FPS games usually demonstrate their exclusivity. In Valorant, this is shown through the different skin tiers.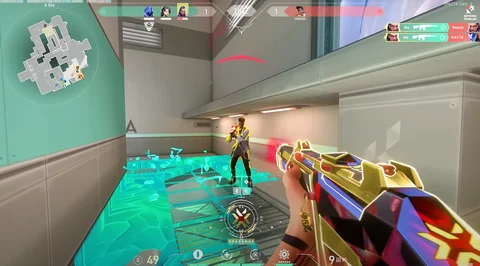 Valorant weapon skins are sorted into tiers based on how attractive they are, as well as the type of animations, sound effects, etc. associated with them. The tiers are usually referred to as price tiers as well, due to the fact that more expensive skins usually belong to higher tiers. So, let's explore all the tiers of weapon skins in Valorant and find out how much they differ from each other!
Valorant Skin Tiers: Pricing
Firstly, let's look at how the pricing looks like for all the skin tiers, as this will be the most important factor for many:
| | | | |
| --- | --- | --- | --- |
| Skin Tier | Weapon Price | Melee Price | Bundle Price |
| Select | 875 Valorant Points | 1750 Valorant Points | 3500 Valorant Points |
| Deluxe | 1275 Valorant Points | 2500 Valorant Points | 5100 Valorant Points |
| Premium | 1775 Valorant Points | 3550 Valorant Points | 7100 Valorant Points |
| Ultra | 2475 Valorant Points | 4950 Valorant Points | 9900 Valorant Points |
| Exclusive | 2175 - 2675 Valorant Points | 4350 - 5350 Valorant Points | Varies (often 8700 Valorant Points) |
All Valorant Skin Tiers Explained
And now, let's look at all these skin tiers, and let's explore how much the skins vary and what they all mean!
Select Skin Tier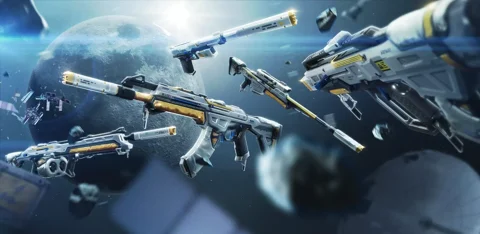 Select skin tier is the cheapest skin tier in Valorant, and it's where weapon skins start at 875 Valorant Points, which is less than $10. These skins never include any animations or sound effects, and there are usually just cheap skins with simple designs. However, that doesn't mean that they are worse; they may not be so fancy, but they still can make your Vandal look premium. In fact, it seems that the primary goal of this skin tier is to make Valorant skins more accessible, and it definitely fulfills it.
Some of the most popular Select skin tier collections include:
Deluxe Skin Tier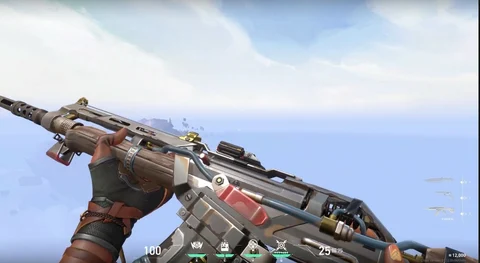 Deluxe skins are not the fanciest in the game, but they are usually more refined in their designs compared to the Select skin tier, and they tend to have some extra visual and sound effects. Again, it should be considered as another tier for budget-friendly weapon skins, although the designs and visuals are one level higher, that's for sure.

Some of the most popular Deluxe skin tier collections include:
Wasteland
Silvanus
Team Ace
Premium Skin Tier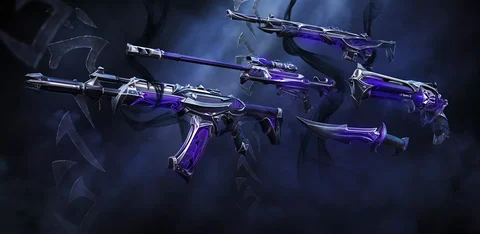 Now, here's where the magic starts. Premium skin tiers come with flashy animations and well-refined sound effects. Moreover, this tier contains lots of popular skin collections, and what's the best part about them, is there are pretty fair in terms of pricing. Like, imagine getting such a nice skin in games like CS:GO for less than $20 — that's usually not happening.
Some of the most popular Premium skin tier collections include:
Ultra Skin Tier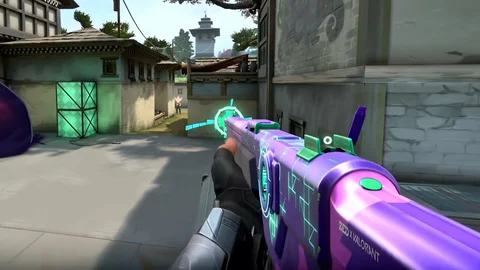 Ultra-tiered skins are the most expensive skins in Valorant. These weapon skins not only contain animations, but also other interesting additions such as unique voice lines (yup, your weapon might be talking to you) or color-changing effects. Playing with these skins is an entirely different experience and, well, pretty much every collection from this tier that has come out so far has been loved by the community.
Some of the most popular Ultra skin tier collections include:

Spectrum
PROTOCOL 781-A
Elderflame
Exclusive Skin Tier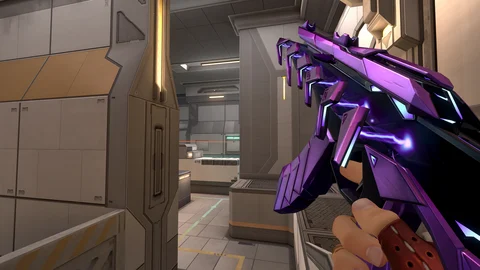 Exclusive skins in Valorant are raging from 2175-2675 VP per weapon skin and 4350-5350 VP per knife skin. Just like the Ultra collection, these skins have the best of the best features, including animations, sound effects, pull-out animations, and much more. Honestly, we would call it as a tier between Premium and Ultra, and that's really all it is.
Some of the most popular Exclusive skin tier collections include:
As you can see, all skin tiers have unique features and aesthetics that make them stand out from one another. The best part about skin tiers in Valorant is that it gives you plenty of choices that will always fit your budget and style. No matter the tier you will usually aim for, everyone will find something for themselves.
More Valorant Guides: