How does the Valorant Night Market exactly works you ask? What kind of collections are available? Fret not, we're here to help!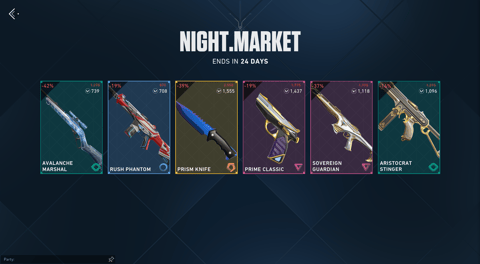 The Night Market is a very elusive pop-up shop that gives fans hope of getting the skin they've always wanted at a fair price. Although this system is somewhat random, we can't deny it's always exciting to see what we end up getting. If you're new to the game and don't understand how this whole thing works, don't worry – we got you!

What Is Night Market?
Night Market is a periodic pop-up store that adds a new way for players to buy skins within the Valorant Store. However, unlike the regular store, the skins we get in our offer are cheaper, often a lot more but mostly small discounts.

When you login during a Night Market, you'll see six cards which, when revealed, reveal discounted skins. You can reveal your cards by just clicking on them once.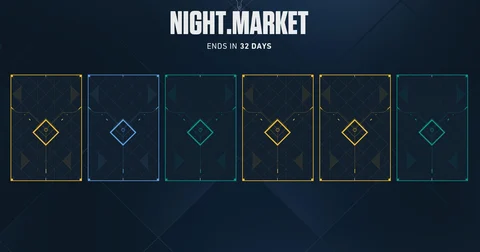 Do note they are predetermined, that means, you don't need to wait for a daily reset or anything of the sort to change your luck. It is also worth mentioning that you cannot get more than two skins for the same weapon, which is currently the only "bad luck protection" for Night Market.

The rarity of the skins in question can be previewed based on the color of the cards, the tl;dr is that if you see yellow cards expect a sweet skin to show up, while green or blue are less costly cosmetics.
Available Night Market Collections
You can only get skins from specific collections and as of today, there are 35 of them.
Select Edition Collections (10): Smite, Galleria, Infantry, Prism II, Luxe, Rush, Sensation, Convex, Endeavour, Reverie
Deluxe Edition Collections (18): Aristocrat, Avalanche, Winterwunderland, Sakura, Prism, Minima, Silvanus, Wasteland, Horizon, Snowfall, Tigris, Nunca Olvidados. Team Ace, Titanmail, Sarmad, Abyssal, Luna
Premium Edition Collections (27): Crimsonbeast, Cryostasis, Ego, Celestial, Forsaken, Gravitational Uranium Neroblaster, Ion, Magepunk 1.0, Nebula, Oni, Origin, Prime, Prime 2.0, Reaver, Reaver 2.0, Recon, Sovereign, Spline, Tethered Realms, Undercity, Valorant GO! Vol. 1, Valorant GO! Vol. 2, Doodle Buds, Gaia's Vengeance, Xenohunter, Neptune
Do note that if a collection has a Melee that costs more than 4350 VP it will not included in the pool.
Upcoming Night Market Collections

With each Night Market launch, the pool of possible collections increases. Starting on Episode 6 Act 3, these collections will join the Night Market pool:
How To Access Night Market?
It's simple – all you have to do to access Night Market is click on that "card tab" in the right-hand corner of the menu screen.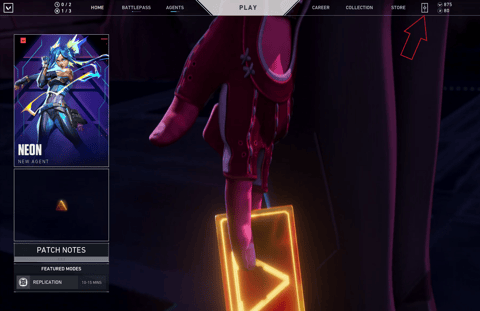 Valorant Night Market Schedule - When Is The Next One
The night market takes place approximately every two months on a random date. Recently, Riot announced that the next night market will start on June 7, 2023. The event lasts three weeks and will end on June 29.


For more content: