Following the LOCK//IN event in Brazil, the Land of the Rising Sun will play host to the only Masters tournament in 2023.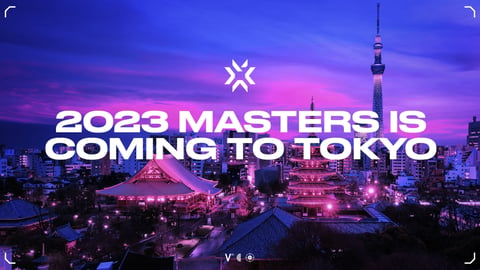 All the weebs in the entire Valorant community (which are a lot!) received some thrilling news on December 24, as Riot Games revealed that Masters 2023 will be played in Tokyo, Japan.
In case you didn't know, on top of entering a new franchising format for all teams involved, which will be 30 for 2023, the Valorant Champions Tour also underwent some substantial changes, with only a single Masters event scheduled to take place throughout the year.
That doesn't mean we won't get international events with teams from all leagues. In fact, the first one will be held in Brazil, called LOCK//IN, and will include all 30 franchised organizations. Back to Masters Tokyo, Riot made the announcement via social media:
Masters is coming to Japan!

Find out more about the next international #VCT event here: https://t.co/QJZxvDgCZs pic.twitter.com/dsFvyLuPYD

— VALORANT Champions Tour (@ValorantEsports) December 24, 2022
The event is set to be held in June and will be the culmination of the first International League splits, with only the Last Chance Qualifiers left before Valorant Champions in September.
10 teams will play at Masters Tokyo, the top three from each International League. One more spot will be allocated to the League from which the winner of the LOCK//IN event in Brazil hails. For instance, if Sentinels wins LOCK//IN, the Americas League will have four spots instead of three. Note this does not mean Sentinels automatically qualifies for Masters Tokyo.
The decision to bring Masters to Japan was a relatively easy one for Riot Games, as Valorant is incredibly popular within the Japanese fps community. In fact, during VCT, Japan peaked with a higher viewership than North America and EMEA.
Over the past twelve months the Japanese VALORANT community has grown by leaps and bounds, with their displays of fandom across all types of events. Our teams have been working closely to build a new experience that will thrill fans around the world and we can't wait to share what we have in store.
We honestly can't wait to see what kind of hype Japanese crowds bring when Masters Tokyo rolls around!
For more content: