Because of how competitive Valorant is, the community has been dreaming of an in-game tournament mode since the very beginning of the game's release. And well, it turns out that such a mode may be coming to the game sooner rather than later.

2022 is the last year of the VCT circuit as we know it. For now, everything we virtually see on the competitive scene are big organizations with famous players, and that's it. However, it turns out that this might chance with an upcoming in-game tournament mode that is already confirmed to be released later this year. Let's dive deep into everything we know about this long-awaited game mode!
Valorant Tournament Mode: Release Date
We now officially know that the tournament mode will be released later in 2022. It was confirmed in Episode 4 Act II Dev Diaries by Anna "SuperCakes" Donlon from Riot Games, where she stated that:
2022 will be an exciting year for Valorant. There are some really exciting new features on the horizon, like our very own in-game, team-based tournament system. (source)

There's also one statement from EvrMoar who is one of the main game designers for Valorant:
The competitive team is heads down on the previously announced "Tournament Mode", but we are trying to think of solutions to the common pain points we see in ranked. It may take time, but we always want to improve ranked. (source)
So, it's coming this year. When should we expect the announcement? Honestly, we would suspect that being at the last VCT 2022 tournament of the year, which would be Champions 2022. If you want to learn more about the tournament, go check out this article: Valorant Champions 2022: Teams, Streams, Prize Pool & More
It would make sense to announce a new competitive format for such a big event that everyone interested in Valorant will definitely be following.
Valorant Tournament Mode: Features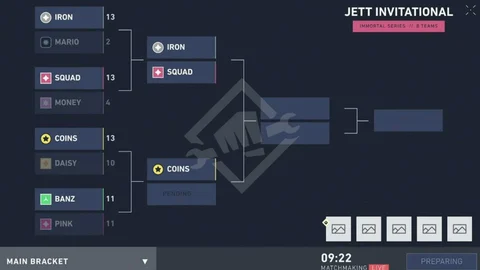 We could see the first leaks regarding in-game tournament mode in Valorant back in summer 2021, back in Patch 3.03:
Tournaments are coming VALORANT! | #VALORANT

> Compete in a high stakes tournament mode against other teams to earn super cool prizes. Tournaments are every other weekend with timetables listed below. Get started by verifying your identity and then creating or joining a team!

— Mike - Valorant Leaks & Info (@ValorLeaks) August 10, 2021
Tournament Features | #VALORANT

> Creating Teams: Once you create a team after being verified you can invite teammates.

>Find a Team: Look for available teams to join or post yourself as a free agent on the scouting board

>Scouting Board, Tournament Shop, and Team Tags

— Mike - Valorant Leaks & Info (@ValorLeaks) August 10, 2021
With just that information, it's really hard to predict if it will be more competitive or rather just casual. However, we also got one tweet for "Evr Moar" of Riot Games where he briefly described the initial rules of this game mode:
We are working on a "Act Based Tournament System"

1. If you win one of the tournaments during an act you get an invite to a "End Of Act" big tournament.
2. Team sizes of 5-7, we want you to be able to swap players between matches.

This is all EARLY WIP(NO ETA)!
Early Wireframe pic.twitter.com/SA0zgqRdwm

— EvrMoar (@RiotEvrMoar) June 21, 2021
And to be honest, we're a little confused. On the one hand, the features teased by ValorLeaks suggest a slightly more competitive approach (Scouting Board, "high stakes tournaments", team registration", and EvrMoar more casual. Moreover, if tournaments are to be held only on weekends, one could say it will be something like Clash Mode in League of Legends. What also confirms this theory is that it looks like these "Act-based" tournaments will be played in a BO1 format, which is not the most competitive way of doing things.
Valorant Tournament Mode: Will It Replace VCT?
Still, just because there will be casual parts of this mode doesn't mean it won't also be used to qualify for official tournaments and majors. Look, for now, Riot Games is using the Battlefy tournament platform, and if they had their own system to organize such events, we don't think there's a single reason not to do it.
What do you think about this, and what are your theories about the upcoming in-game tournament mode? Be sure to let us know on our social media profiles: Instagram, Twitter, Facebook, TikTok